Just plane folks...
Les Staples

CEO

With more than 3,000 hours of GA PIC in his log book, Les has been flying most of his life flying a variety of aircraft including early Mooney and Cessna aircraft, numerous Grumman singles, a Meyers 200, and a Partenavia P68C (pictured) but logs most of his recent time in his newly completed Vans RV-10. Father of three and grandfather of one, Les spends increasing amounts of his time visiting the New Mexico mountains and the South Texas coast, but still spearheads the strategic direction of Sky-Tec, Product Development and FAA Certification projects.

Gene Chiappe

Engineering, DAR

With more than 2,500 hours of PIC in his log book, Gene is also an experienced GA pilot having owned numerous aircraft including an early C172, Bellanca Super Viking, C210T, Comanche 180, 1946 Ercoupe 415C-D and a fixed gear Cessna Cardinal which he still enjoys flying to the shop on pretty days. Father of two pilots and grandfather of five (one of whom is already a pilot and three others are in training!), Gene spends free time RV'ing with is wife, Carol when he's not designing engineering improvements and future products for Sky-Tec.

Rich Chiappe

GM

Rapidly approaching 1,000 hours of PIC in his log book, Rich has been flying most of his life owning a variety of aircraft from his first Cessna 150, Cessna 172, Beechcraft Musketeer Super III A23-24, and most recently, an award winning Starduster Too. When he's not flying the Partenavia P68C with his wife and three children, or training in gliders with his teenaged sons and daughter, you can most likely find him at the lower flight levels in a red and white Breezy. When Rich isn't busy managing all aspects of Sky-Tec's business and flying, Rich stays busy as the voice of Granbury Pirates Football, playing music and serving various Granbury community boards and organizations.

Richard Condy

Design, Quality, DMIR

Since soloing and earning his license in 2005, Richard is the employee most like to abscond with any aircraft that his rating and endorsements permit him to fly. Richard joined Sky-Tec in 2004 having earned multiple degrees in Aeronautics and Management from Embry Ridell University. Richard is responsible for all matters of Quality and Certification for Sky-Tec and when he's not working or 'borrowing' aircraft, Richard is also a "Jeep Guy" and was recently engaged - his smartest move yet.

Katherine Jowers

Office Manager

Katherine has been with Sky-Tec as long as any of us can remember. Luckily, Katherine is one of the few Sky-Tec employees that does not fly which means she is always present, competent and focused on business matters even when the rest of the crew is distracted with flying. Katherine handles all matters of the daily operations and interaction with customers. Although she is neither a pilot nor an aircraft mechanic, thanks to her 15+ years of experience with Sky-Tec, Katherine has the answers when it comes to Sky-Tec starters. Katherine is mother of two.

Richelle Gomez

Purchasing & Materials

Since joining us in 2011, Richelle has done just about everything for Sky-Tec and is now responsible for purchasing and materials.

Richelle is one of those people that never has a bad day and is always smiling.
Sorta makes ya sick, doesn't she?
Besides being wife to Abel (below), Richelle is also mom to two college-aged daughters and two young, active boys who keep her busy and youthful

Dale Parker

Warehouse

Dale's career spans decades in the aerospace industry. Recently retired from Lockheed Martin, where he worked since 1988 as Senior Design Engineer, Dale is responsible for materials for Sky-Tec including inspection, conformance, storage and many other day-to-day duties. A private pilot since 1994, Dale often flies the Van's RV-6 he built to commute to the factory from his private Hood County ranch airstrip (marked "Parker" on the DFW sectional).

Abel Gomez

Machining Manager

Abel's expertise lies in a multitude of related manufacturing industries from which we leverage his years of experience in creative design, promotion, manufacturing operations, production and quality. Also a master of all trades, Abel's most appreciated skill is probably his inherited ability to please his friends and family with the mastery of cooking - usually classic dishes from Northern Mexico and West Texas.

Abel is a dedicated husband and father of six and enjoys coaching his young boys' baseball and basketball teams.

Donna Berry

Sales & Support

When not answering phones and handling technical and sales inquiries from Sky-Tec dealers, Donna spends time flying with husband, Damon in their V33 Bonanza. Damon and Donna are both retired from Western (Delta) airlines where they met when Damon was Captain and Donna a Flight Attendant. Now that's one compatible crew! Donna is a mother of two and proud grandmother of four.

Betsy Parrish

Sales & Support

When not answering phones and handling sales inquiries from Sky-Tec dealers, Betsy spends time flying with husband, Marty in their Van's RV-7, Thorp T-18 and/or Piper Archer out of Borland Field (located between Granbury and Ft. Worth). Betsy is a mother of four and proud grandmother of two.

Buddy Ward

Machinist

Buddy has been running Sky-Tec's three CNC machining centers for nearly twelve years. And when buddy isn't turning aluminum for Sky-Tec, he's turning wood in his home shop creating beautiful works of art and displaying a mastery for turning exotic wood bowls. We're lucky to have him and his attention to details.

Josh Tull

Junior Machinist

Josh joined Sky-Tec this year and runs a CNC lathe center among other unflattering menial tasks. Josh is a seventh year senior (give or take) at Tarleton State University in Stephenville, Texas where he perpetually pursues the ever elusive Bachelors degree in Manufacturing Technology. All kidding aside, Josh is one of those "kids" that makes you feel good about this generation and their approach to and motivation for their manufacturing career pursuits. We hope to keep him!

coming soon
Uel Copeland

Production Manager & Starter Tech

The latest addition to the Sky-Tec starter team, Uel Copeland brings more than 35 years mechanic experience in vehicle, farm implement and small engine repair. Uel is a father of two and an absolutely irreplaceable member of the Sky-Tec team not only by keeping production flowing but also in keeping all the machinery (production and otherwise) in operating order!

Don Moore

Starter Tech

Don's been building starters Sky-Tec starters for more than ten years. Don started learning to fly in 1960 and took only 23 short years before earning his private in 1983. Since then, Don has owned a long list of aircraft most of which he purchased in pieces, restored, flew and traded. Don's experience also includes ownership of an auto, truck and farm implement dealership in northern Texas.

Don is father of one, grandfather of 3 and great grandfather of one..

Dick Sloan

Starter Tech

Richard joined the Sky-Tec family in 2009 after 25 years in corporate purchasing and more than a decade in the retail jewelry industry. This might help explain why every starter coming out of Sky-Tec's rebuild department glistens and shines as well as it performs! Dick is father of four and grandfather of eight and owner of one very beautiful new red Camaro SS!

Craig McAlister

Starter Tech

When not building starters for Sky-Tec, Craig can be found serving the local Catholic church community as Deacon. Craig's career in ministry includes more than 25 years in prison ministry making him exceptionally well qualified to deal with the working conditions at Sky-Tec.

Sometimes Sydney

Does all the stuff noone else wants to do

Sydney joins us whenever it's convenient and she needs more money to sustain her sorority lifestyle at Texas Tech University where she is pursuing a degree in Sports Journalism. Unless of course we can convert her into being a starter tech for the rest of her life. Time will tell.
The Sky-Tec Rebuild Department Team:
Ken McDonald

Rebuild Tech

Ken has been working in Sky-Tec's FAA Repair Station since 2004 not only handling all aspects of day-to-day starter rebuilds and overhauls, but also the creation, implementation and ongoing maintenance of Sky-Tec's proprietary starter service database application, Skybase. Ken has 25 years experience as a mechanical engineer and 15 years experience as a computer software consultant. When not getting his hands dirty repairing and overhauling starters, Ken can be found on the golf course working on his handicap at his home course of DeCordova Bend Country Club. Ken is a father of five and grandfather of eight and a recent great grandfather!

Howard York

Rebuild Tech

Howard is best known as the only Pepsi drinker in the factory (we are a Dublin Dr. Pepper shop). A retired sales executive of Pepsico, Howard has been living out his retirement dreams getting his hands exceptionally dirty repairing starters part time when he's not working on his golf handicap at Pecan Plantation Country Club. Howard is a father of two and grandfather of six.

John Savage

Rebuild Tech

John also comes to Sky-Tec by way of the golf course. A resident of Pecan Plantation Country Club, when not playing golf and fixing starters, John shares stories of his career as a High School principal. John has yet to confirm that discipline in the high schools under his watch was probably far better than what he experiences at Sky-Tec. John does, however keep Sky-Tec employee behavior demerits on his permanent record. Old habits die hard.

Jim Hassenzhal

Rebuild Tech

Jim just joined us in 2013. We still don't know much about him. So we don't fully trust him around the break room food pantry just yet either. And why does he look so much like John Savage!?

Gary Rodgers

Rebuild Tech

Gary just joined us in 2015. We still don't know much about him either. This isn't even his picture.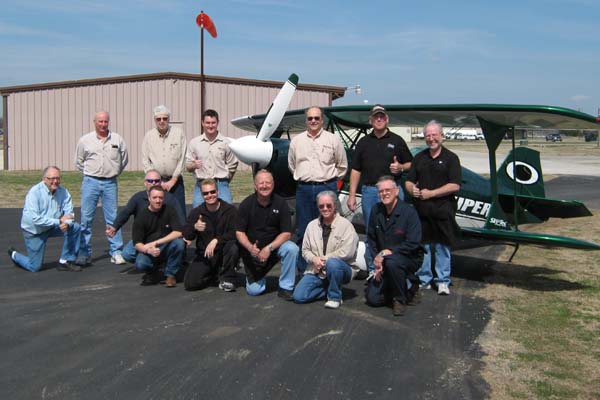 The Team pictured with Jason Newburg and his awesome Pitts Viper (started by Sky-Tec, naturally)
Our Home
Historic Granbury, Texas is located just 30 miles southwest of Fort Worth, Texas. It's a beautiful place to live and a fantastic place to raise a family (or run a starter manufacturing business).
As Southern Living Magazine puts it: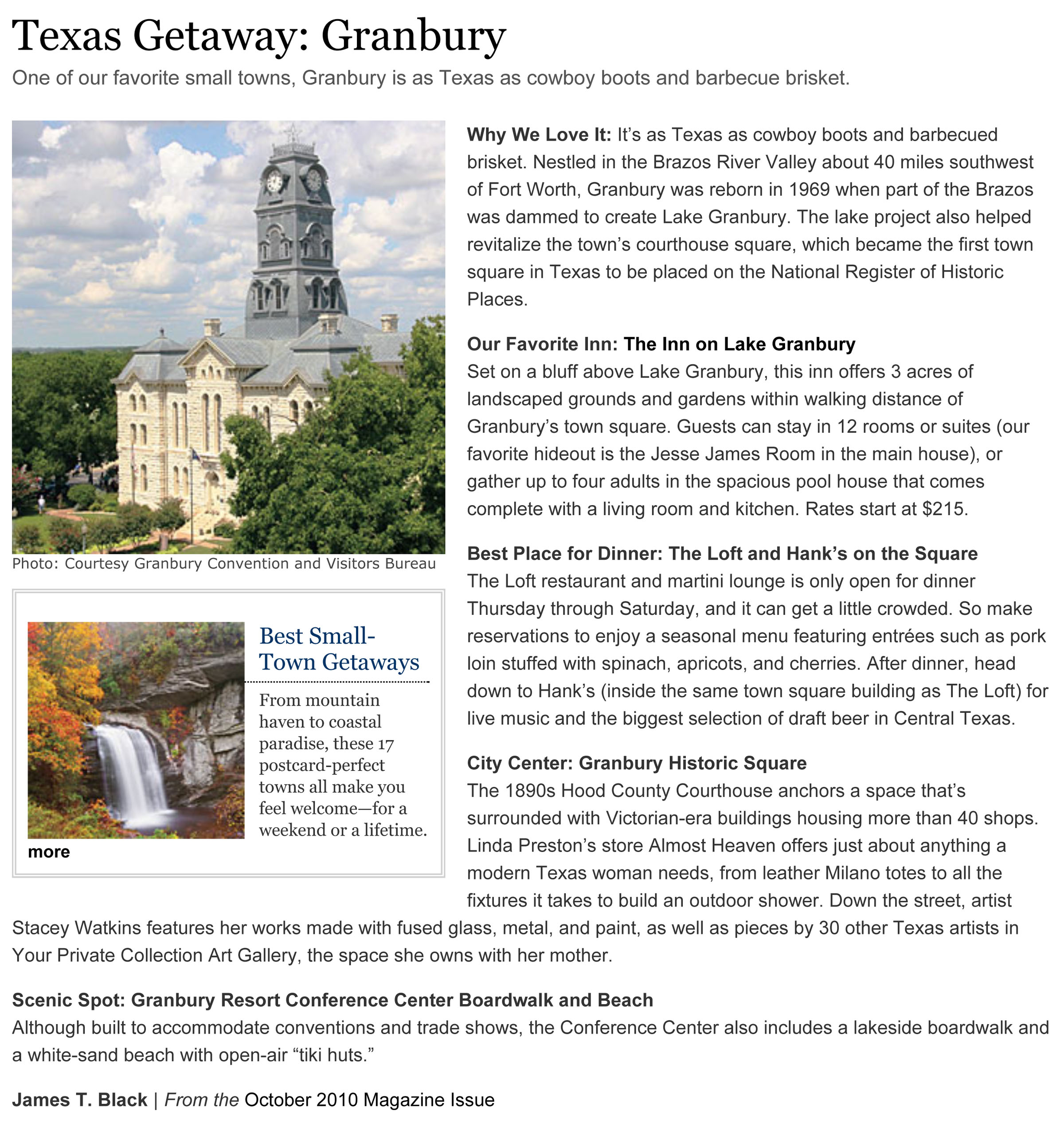 As the Granbury Visitor's bureau puts it:
Pamper yourself in a quaint bed and breakfast or lakeside resort. Discover rare treasures as you meander through more than 50 antique, art and gift galleries. Savor the flavors at Texas cafes, fine restaurants and small town ice cream parlors. Catch musical high notes at the fabled Opera House. Fish your limit or just relax deck side and enjoy the sunset on sparkling Lake Granbury. Sroll through our Victorian town square, the first in Texas listed in the National Register of Historic Places. It's all Big Fun and Great Music from the golden age of rock n roll at Granbury Live Tee off for a round of golf in the scenic North Texas hills. Renew the magic of young love at an old-fashioned drive-in. See where dinosaurs once walked and wolves still howl. Listen for the echoes of heroes, the bravado of outlaws, the cadence of frontier life. Meet silent legends living here still, sculpted in stone, forged in iron, worked in wood. Get away to Granbury and relax in a peace of the past. Call the Visitor Bureau for information on Historic Guided Tours.
The Airport is only two miles from downtown and courtesy cars are available. Come see us!
It takes one to know one

How many times have you been able to call a factory and speak with someone who actually manufactures (and repairs) the product? Better yet, have you ever spoken with someone who actually uses their own product regularly? Well, with Sky-Tec, you get both! Call us. We are pilots and aircraft owners too. Give us a call. We'll even let you talk to the guy who designed 'em if you like.